Empowering Women To Feel Comfortable With Their Nature
Menstruation is a natural process of the female body that signals health and childbearing capacity. Every menstruator has the right to be independent and self-determined without suffering from underlying hierarchies and restrictive practices. Our vision is to help women live their lives in independence, self-determination and freedom of choice. Only a change of Mindset of everyone, can make this vision become reality. 
PROBLEM
In Nepal, girls and women struggle to manage their menstruation hygienically and with dignity, due to restrictive practices and lack of menstrual products.
SOLUTION
We want to provide affordable menstrual products, advocate for women's right and raise awareness around menstrual health management.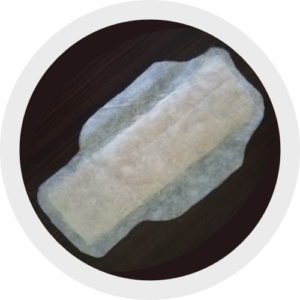 GOAL
All woman must have access to menstrual products and live without the risk of discrimination and social ostracization.
In Nepal, girls and women struggle every month to manage their menstruation hygienically, safely and with dignity. In the Far Eastern and Midwestern regions of Nepal, menstruating women are considered untouchable, dirty and impure due to the cultural and religious traditions. Some of them being isolated from their families for the duration of their period and must sleep in cow sheds. In the rest of the country the restrictions are less severe, but the vast majority of Nepalese women are still discriminated during their period. Many menstruating women are not allowed to enter the kitchen or touch food.   
This negative stigmatization, in combination with the lack of availability of menstrual products, in many places means that the period for countless Nepalese girls and women becomes a monthly recurring degrading and undignified agony. Many women are forced to use unsanitary alternatives such as dirty rags, especially in remote areas. In addition, the school curriculum contains too little information on the biological cycle of menstruation, making it difficult for adolescent girls to find viable information.  
The Mission of the Project
To fulfill its vision, NIDISI
aims to 
start 
a Nepalese social 
business named 
Sparśa
that develops and produces 
biodegradable
menstrual pads from Nepalese local resources 
with the mission
 to distribute them in Nepal. 
T
his 
way, 
the menstrual pads will be affordable, available in remote areas and completely compostable. 
Sparśa
will mostly employ women. The 
profits generated by 
the nonprofit company Spar
śa
 will be 
spent
 to finance awareness campaign
s
on Menstrual Hygiene Management, to fight for Women's right throughout advocacy, and reinjected into the company to make it grow.
To reach its goals, three main milestones have already been achieved: 
To expand the network and be active in national advocacy, NIDISI is part of the MHMPA (Menstrual Health Management Partners Alliance in Nepal) since April 2020.
To begin spreading awareness about women's biology and menstruation, a series of Nepalese webinar available on social media has started in Mai 2020. 
To develop the menstrual pads, especially the absorbent core in banana fiber, a research project has been carried out in 2021 at Grenoble-INP Pagora, UGA. The results are the base on which the prototype will be developed. 
DO YOU WANT TO PARTICIPATE?
Become a Pal and therefore member of our great community and network. Place a donation and/or work with us in Nepal.
Anyway, lets get in contact.